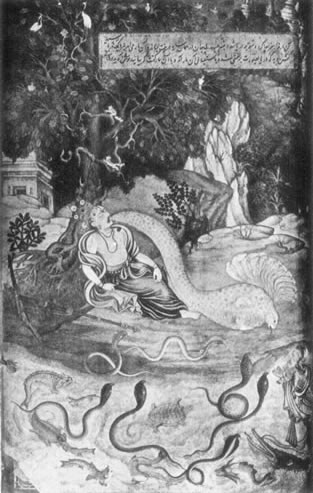 The Death of Balarama
Illustration to the Persian abridgement of the Mahabharata, the Razmnama (or Book of the Wars) By Basawan Mughal (Akbar period), c. 1595 Collection H.H. the Maharaja of Jaipur, Jaipur

The picture represents what Krishna saw on his return from destroying the Yadavas at Prabhasa. Balarama, his half-brother, has gone down to the sea and has there yielded up his spirit. Sesha, the great serpent, who is part of Vishnu himself, is now issuing from the body Balarama having been his incarnation. Snakes come to greet him while Varuna, the god of water, stands as 'an old man of the sea' ready to escort him to his long home.