The Dance of Death
III. - The Expulsion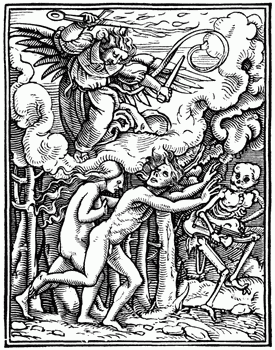 THE EXPULSION.
Emisit eum Dominvs Devs de Paradiso voluptatis, vt operaretur terram de qua sumptus est.
Genesis iii.
DIEV chassa l'homme de plaisir
Pour uiure au labeur de ses mains:
Alors la Mort le uint saisir,
Et consequemment tous humains.
Adam and Eve, preceded by Death, playing on a beggar's lyre or hurdy-gurdy, are driven by the angel from Eden.
Death borders upon our birth and our cradle stands in the grave. -- Richard Barnfield